Dr. David Morrison
2019 Student Servant Leadership Awards Recipient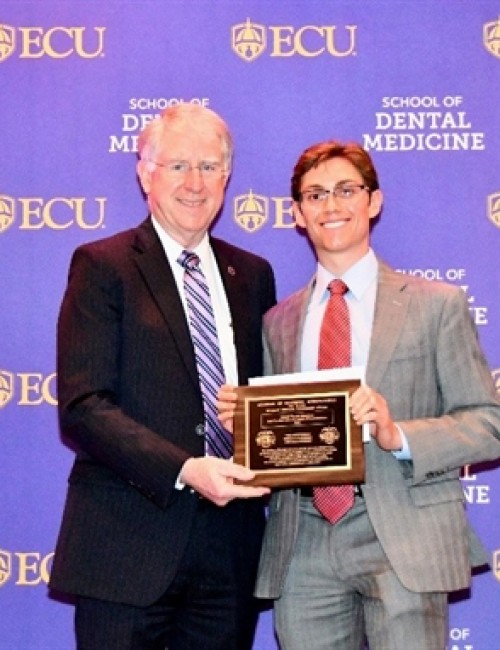 No video selected.
Dr. David Morrison was awarded the Doctor of Dental Medicine degree from the East Carolina University (ECU) School of Dental Medicine on May 3, 2019. He completed his undergraduate studies at North Carolina State University in 2015 where he earned two bachelor's degrees: a Bachelor of Science degree in Human Biology and a Bachelor of Science degree in Nutrition Sciences, both awarded Magna Cum Laude.

Prior to his dental school matriculation and throughout his time at the ECU School of Dental Medicine, Dr. Morrison consistently demonstrated altruism and a commitment to service. He has volunteered over 520 hours of his time to multiple service projects and organizations since 2010, including several NC MOM clinics, JOY Soup Kitchens, the Greenville Food Bank, and the Ronald McDonald House, to name a few. Notably, in the Summer of 2018, Dr. Morrison traveled to the Dominican Republic with Dr. Frank Serio and other volunteers for a week-long mission to provide dental services to patients in communities with limited access to healthcare. Dr. Morrison was an obvious choice for the Academy of Dentistry International Student Servant Leadership Award.
In June 2019, Dr. Morrison will begin the Advanced Education in General Dentistry Residency at the East Carolina University School of Dental Medicine in Greenville, NC. After his residency, Dr. Morrison will practice in the eastern region of his home state, North Carolina. He is very thankful for the flexibility that dentistry provides as it has given him the opportunity to serve others in many capacities and support the causes he values.

Pictured: Dean Greg Chadwick & Dr. David Morrison
Posted: : Saturday, 06 June 2020.